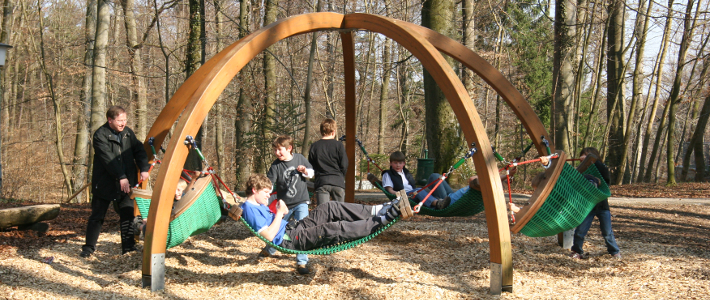 The castle's location
Burg Schwaneck is situated at the edge of Pullach, and just ten kilometers south of downtown Munich. The castle and its surroundings house the Youth Guest House, the Center of Nature Experience (NEZ), the Center of Youth Education and the offices of Kreisjugendring München-Land. Its 19th century buildings, which are under monumental protection, and its idyllic setting on the high bank of the Isar river create Burg Schwaneck's particular charm.
Directly behind the castle, foot and bicycle paths begin. Some lead down to the pebbled river bed, which – in a costly effort - has recently been restored to its natural state.
All our guests can use the area around the castle for playing, learning and relaxing – the latter ideally in the hammocks behind the KJR administration building. The play meadow is suitable particularly well for ball games. Inquire at the reception for firewood for use at the grill place. The Center of Nature Experience has layed out a pond, a herb spiral, has planted a variety of plants and built a barefoot parcours to tickle your soles. But not only humans enjoy life around here: In the course of the decades, birds, squirrels, the dormouse and even bats have selected Burg Schwaneck as their homes.