Café Schwanthaler
In the entrance area is the "center" of the Burg Schwaneck. Café Schwanthaler is open daily from 6 to 10.30 am. There, drinks and small meals can be taken, group leaders find advice and support from the qualified staff and it is the place for the late check-in. In the mix of historical conditions with modern materials and colors, small and large guests can feel comfortable, have stimulating discussions or just have a good time.
Dining room
The dining room is divided into two connected rooms. So there is enough space for all guests. Our kitchen team designs a new menu every week: soup, salad, several main courses, dessert for "gusto" selectable. On request, we are happy to respond to individual requests.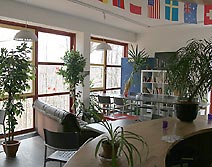 Bowling lounge
Your group likes a nice bowling match? Then just sign up at the reception. Size approx. 45 sqm, accommodates 20 persons.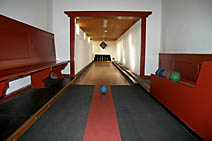 Billiard room
The large new pool billiard can be rented (5 € per hour). Please reserve at the reception or at Café International.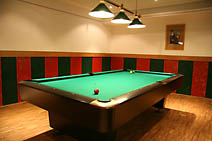 Self-support kitchen
You're hungry and like to cook your own meal? No problem with our self-support kitchen, which is located in the basement and accessible for all guests who stay the night at Burg Schwaneck.